The Volvo C40 Electric Crossover represents another milestone in Volvo Cars' commitment to obviate the ICE (internal combustion engine) by 2030. With a short-term goal to see 50% of their sales consist of electrified models by 2025, compelling models such as the all-new Volvo C40 Electric will make it easy to achieve. Your EV specialists at Quantrell Volvo will walk you through the latest information that we're allowed to share so that you can time your Volvo C40 Electric purchase or lease seamlessly with the projected release. Scroll below to learn more about the latest EV offering from Volvo Cars or jump right to our current stock of the all-new Volvo XC40 Electric for sale at Quantrell.
Your Volvo C40 SUV Revealed
The Volvo C40 Recharge offers a slightly different take on EV mobility than its cousin, the Volvo XC40 Recharge. Both nimble, both capable, and both stylish & safe. The Volvo C40 differentiates herself from the fleet with a striking fastback design complemented by sweeping LED lighting cues. Your inaugural Volvo C40 model will be the:
Volvo C40 Electric Recharge
Available in Q1 of 2022, your all-new Volvo C40 will offer advanced LED lighting, built-in Google, smartphone connectivity, ADAS safety features, an LCD driver's information center, touchscreen infotainment, a brand-exclusive leather-free cabin, ambient lighting, and 402hp. You'll also get to welcome two new model-exclusive colors: Fjord Blue and Silver Dawn.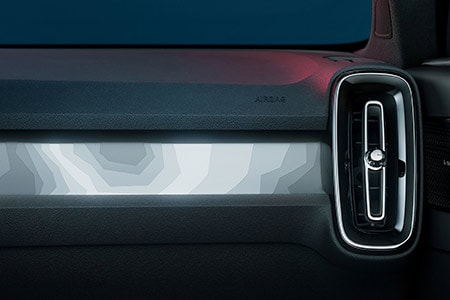 Proven Performance. Reimagined
The Volvo C40 Electric SUV inherits the proven powertrain found in the Volvo XC40 Recharge. As such, it offers an impressive 402hp thanks to dual electric motors found separately at each axle. Additionally, the Volvo C40 Electric SUV offers an estimated electric range of 210 miles with fast-charge capabilities. This means that you can go from a virtually depleted battery to adding another 170 miles in about 35 minutes.1 As with the Volvo XC40 Recharge, you can expect clever storage solutions and configurable drive modes to suit your mood or changing driving conditions. Learn more about the new Volvo XC40 and explore the world of possibilities that are coming soon with the Volvo C40. Stay tuned for more information as we are allowed to release it, including the Volvo C40 price. Continue below as we answer a few of the most intriguing questions that we've gotten lately from motorists like you: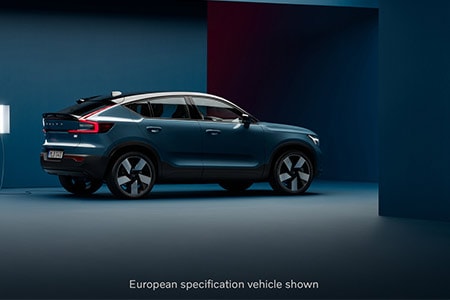 When can I order the fully electric C40 Recharge?
You can reserve yours right now if you wish! Our EV specialists are standing by to help you with any questions that you might have, as well as to finalize your reservation. You will be notified when it's time to personalize your Volvo C40 Electric.
Will I be able to start my order of the pure electric C40 Recharge online?
Yes! Ordering is easy. Just click on our "reserve yours now" tab. Then, a sales specialist will confirm your reservation once completed, or feel free to call us at any time to check your order's status.
Is the C40 Recharge only available as a fully electric vehicle?
Sure is! Equipped with the latest Volvo Drive-E technology, you'll enjoy the performance of a sports car with a range that will keep you out there on the road even longer.
What is the Volvo C40 Recharge?
The Volvo C40 Electric SUV is the next fully-electric offering from Volvo Cars. Ordering will be done completely online to create a worry-free purchase experience, though customers will be able to test-drive and view demo units available in stores.
What's powering the C40 Recharge?
Power comes from a 78-kWh battery pack that energizes dual electric motors. Each motor is found at opposing axles. The system is capable of 402hp and boasts an impressive EV range.
Quantrell Volvo Knows the Future Is Recharged
Many of our customers have had EV mobility experience, while others are just discovering this technology for the first time. No matter which camp you're part of, this is a pivotal moment in the automotive industry's history. Climate change is on everyone's mind, and for the first time in history, technology is able to back our purest ideology. The EV charging network is incredibly robust. If you live near Louisville or anywhere in KY, for that matter, you've no doubt seen the vast availability of public charge points. Let one of our EV specialists invite you to a video chat where they can outline just how easy EV ownership is. Quantrell Volvo is your new Volvo Cars dealer near Louisville. We're here for the long haul, just as we have been for generations. Here's to the new Volvo C40 Electric and preserving our planet for the next generation.